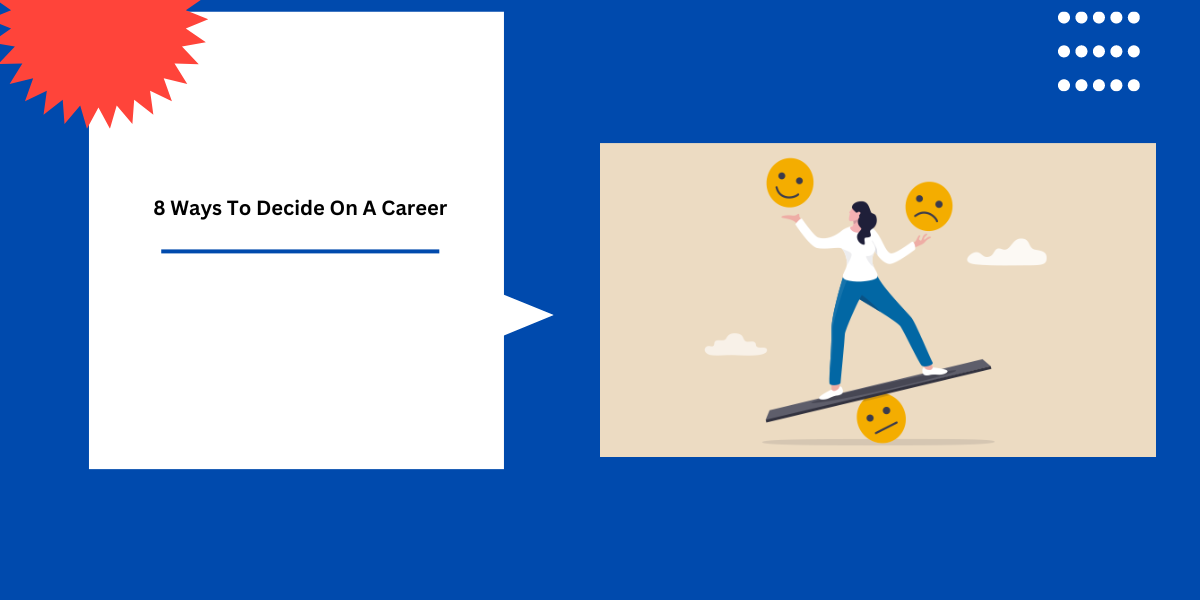 Every day, more and more people are choosing to pursue careers in the digital age. This means there's a lot of variety out there for those who want to find their calling. However, it can also be tough to know where to start.
If you're feeling lost or unsure about what you should do with your life, here are eight ways to help make that decision easier. From considering your passions to taking some career tests, read on for the advice you need to get started on the right path.
The Different Types of Careers
There are many types of careers out there for people who want to make a difference in the world. Some people choose to become doctors, lawyers, or scientists. Others choose to work in the arts or in public service. The important thing is that you figure out what kind of career interests you and what makes you feel fulfilled. Here are some tips on how to decide which career is right for you:
Consider your values and goals. What do you believe in and why? Are you motivated by money or by helping others? Once you know your values, it will be easier to find a career that matches them.
Determine your skills and abilities. What do you excel at? Do you have experience working with numbers or solving problems? If so, this may be a good skill set to highlight when looking for a job.
Check out online resources. Many careers websites have information on specific types of jobs as well as tips on how to get started in that field. There are also plenty of videos on YouTube that can help illustrate different types of careers.
Talk to family and friends. They may have valuable insights into what type of job would fit best with your personality and skill set.
What To Look For In A Career
Consider your skills and interests.
Look at the job market and what is available.
Research the company you want to work for and its culture.
Determine what salary you want and how much experience you need for that salary.
Figure out how much time you can spend working each day and how many hours a week you are willing to work, based on your lifestyle and other commitments.
What To Do If You Don't Like What You Find
Decide What You Really Want To Do.
If you don't know what you want to do with your life, it's time to start thinking about it. Start by taking some time for yourself and writing down everything that comes to mind when you think about a career. Once you have a good idea of what you're interested in, then start doing some research on different careers and find out more about what they entail.
Find the best career for your life.
Talk To Your Friends And Family About It.
It can be helpful to talk to your friends and family about what you're considering because they might have some advice or suggestions that you hadn't considered before. They might also be able to tell you if there are any specific areas of the career field that interest them or if they have any personal experiences in related fields that could help guide your decision-making process.
Take A Look At The Job Market And Receive Training If Necessary.
If you're not sure which career path is right for you, it might be helpful to look at the job market and see if any positions are available that match your interests and skill set. Additionally, many careers now require some form of training or certification in order to pursue them, so make sure to explore all of your options before making a commitment.
How to Choose Your First Career Step
Choosing a career step can be one of the more difficult decisions you'll make in your life. There are a lot of options and it can be hard to know where to start. This article will help you choose your first step.
The first thing you need to do is figure out what you want to do. If you don't have a clear idea of what you want, it'll be harder to choose a career that's right for you. Once you've figured out what you want, the next step is finding out what skills and abilities you have.
Do some research and look at what other people in your chosen field are doing. Then, use those skills and abilities to create a list of career options. You can also find information about specific careers by visiting websites like Indeed or Google Scholar.
Once you have a good understanding of your skills and abilities, the next step is figuring out which professions interest you most and which ones match your personality traits. Some factors to consider include: What kind of work will fit with your values?
What kind of environment will suit your needs? Do the jobs require specific skills or knowledge that you have? Once you've determined which jobs fit your criteria, take another look at the lists of professions and choose one that looks interesting and reflects your interests and personality traits.
Now that you know some basics about choosing a career step, the rest is up to luck and determination!
How to Succeed In Your Career
Choosing a career is one of the most important decisions you will ever make. It can take years to find the right one, but with some careful planning and research, you can make sure that your path in life is what you want it to be.
There are many things to consider when choosing a career, but the biggest factor is what you love to do. If you don't have an idea of what kind of work makes you happy, then it's time to start exploring your interests. Check out job sites like Indeed or Craigslist to see what kinds of jobs are out there. Once you have a good list, start researching which ones would be best for you.
Once you know which careers interest you, it's time to figure out what skills and abilities you need for those careers. This means taking classes if necessary and developing the skills that are relevant to those positions. This can be difficult if you're not sure where to start, but there are many resources available online or in libraries.
Once you have all of your information together, it's time to look at salary data for each career option and decide which one is best for you based on your salary goals and other factors such as lifestyle preferences.
Once all of this information is in order, it's time to begin applying for jobs! Start by submitting your resume online or through company websites and then follow up with phone calls or visits if necessary. Be persistent; just because a job isn't available right now
The Importance of Professionalism
Professionalism is important when pursuing a career. Professionals should always be willing to put in the extra work and strive for excellence. If someone is not willing to put in the extra effort, then they may not be a good fit for their chosen field. Professionals should also be patient and persistent.
It can take years of hard work and dedication to become successful in any field, so professionals should not give up easily. Finally, professionals should maintain a positive attitude and outlook on life. This will help them stay motivated throughout their careers and achieve their goals.